Path Infotech, a member of Oracle PartnerNetwork (OPN), today confirmed it is sponsoring Oracle CloudWorld Tour Singapore scheduled for April 4, 2023.
Path Infotech, a member of Oracle PartnerNetwork (OPN), today confirmed it is sponsoring Oracle CloudWorld Tour Singapore scheduled for April 4, 2023. The event will feature opportunities for attendees to listen to thought-provoking keynote speakers, attend informative breakout sessions, network with industry experts, and experience partner solutions.
Path Infotech has three decades of experience in Oracle technologies and deep technical expertise in delivering enhanced services to its customer base. At Oracle CloudWorld, Path will be introducing CLOUDnU – an Automation-Led End-to-End Service Delivery Framework at Booth #S5. Path's end-to-end experience in Applications, Databases, Infrastructure, Integrations, & Security forms the foundation of CLOUDnU. It is a low-risk, high-quality, cost-effective service framework designed to automate Cloud adoption for organizations.
Vishal K Aggarwal – VP, Cloud & Platform Management Services, Path Infotech, will be speaking at a panel discussion, alongside key customers, about how businesses are driving rapid business transformation and successful cloud journeys. Vishal will share insights on how CLOUDnU is accelerating & simplifying the Cloud Journey for customers.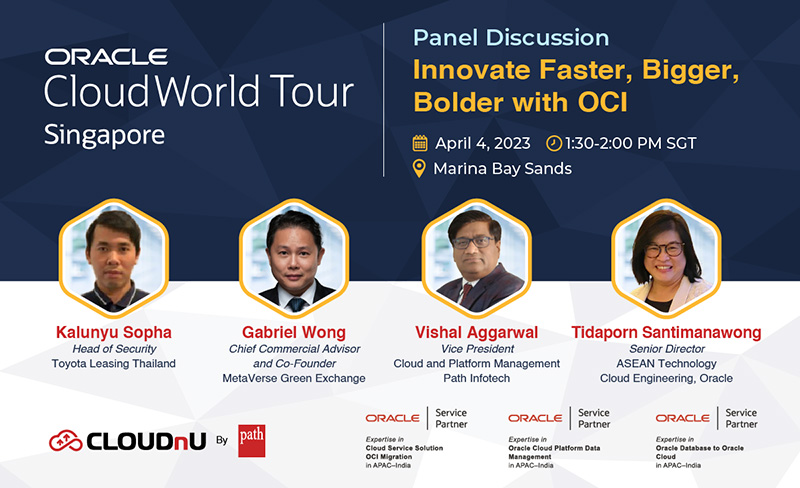 Tuesday, April 04, 2023, 1:30-2:00 PM SGT
"Innovate Faster, Bigger, Bolder with OCI" | Roselle 4603, Level 4 Marina Bay Sands, Singapore
Join Path at Booth #S5 at Oracle CloudWorld to meet with their cloud experts and discover the benefits of an automation-led cloud journey.
Path is a technology-led business solutions company offering digital transformation, foundational, and sustenance services across industry domains. They bring the right blend of functional knowledge and technology excellence that empowers their customers to embrace automation, Cloud (IaaS, PaaS, and SaaS), mobility, analytics, enterprise applications, and cross-platform integration. Path has been providing customized solutions and services to customers across industry verticals in the last few years on Hybrid Cloud. To know more visit: www.pathinfotech.com
About Oracle PartnerNetwork
Oracle PartnerNetwork (OPN) is Oracle's partner program that provides partners with a differentiated advantage to develop, sell and implement Oracle solutions. OPN offers resources to train and support specialized knowledge of Oracle's products and solutions and has evolved to recognize Oracle's growing product portfolio, partner base, and business opportunity. Key to the latest enhancements to OPN is the ability for partners to be recognized and rewarded for their investment in Oracle Cloud. Partners engaging with Oracle will be able to differentiate their Oracle Cloud expertise and success with customers through the OPN Cloud program – an innovative program that complements existing OPN program levels with tiers of recognition and progressive benefits for partners working with Oracle Cloud. To find out more, visit: http://www.oracle.com/partners.
Trademarks
Oracle, Java, and MySQL are registered trademarks of Oracle Corporation.